Many homeowners have hired a designer first, only to find that the "bids" came in higher than what they had anticipated. Not only were they surprised, but at that point the homeowner had spent several thousand dollars on a design that would never be built. We take the opposite approach and design to the desired investment.
We pride ourselves in creating a design that you will be proud of. The first step involves a meeting at your home where we will provide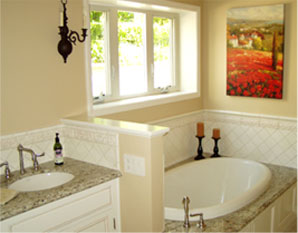 you with a free estimate based on our findings. You will be given a design agreement whereby we can begin the design process. You will not be locked into a long term commitment and can choose to cancel at the end of any of the three design phases. During the design phase we will update the estimate as the plans evolve. Many of our clients ask for option pricing during the design phase, which is helpful in preparing the final plans. In phase three a firm price will be given to you at which time you can decide to continue on with a construction agreement.
After the construction agreement is initiated we will submit plans to the building department to obtain permits. A pre-construction meeting will be set up to present you with a start to finish schedule.